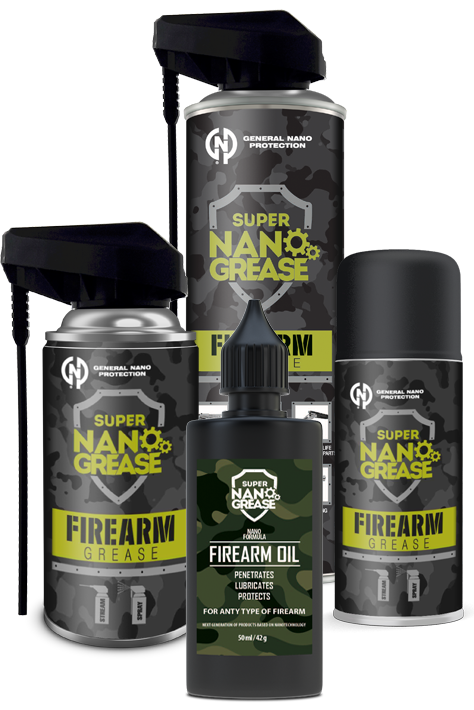 FOR HUNTERS AND OWNERS OF WEAPONS
A series of products for owners of all types of cold weapons and firearms. The multifunctional lubrication formula simultaneously cleans, lubricates and reliably protects the weapon from corrosion even with prolonged storage. These products have received the best reviews from professional hunters and amateurs.
Super Nano Detergent
Bore cleaner squeeze bottle (FlipTop) 140 ml
super nano grease firearm
aerosol can: 75 ml., 150 ml., 300 ml.
super nano grease gun oil
bottle: 50 ml.
excellence:
Prevents creaky hinges and joints
Extends the life of mechanical parts
"Liquid key" functions long life
Penetrates and lubricates -80°C to +160°C
Facilitates the removal of soot
Protects from wear and tear
Prolongs life of mechanical parts
PRODUCT'S FUNCTION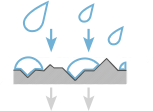 Wear and tear of metal mechanisms occurs if improperly taken care of.

Super Nano Grease penetrates deeply at the molecular level into the applied surface, lubricates, and protects.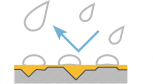 Super Nano Grease stops squeaking and protects against wear and tear for a minimum of 1 year.
super nano grease gun oil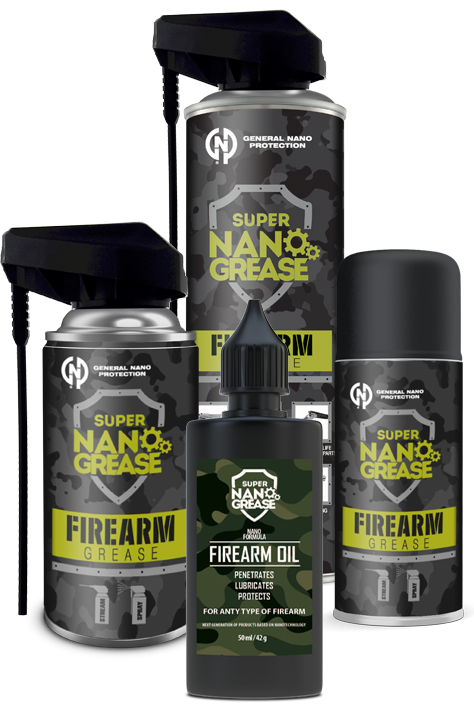 APPLICATION: Super Nano Grease Firearm is a versatile multifunctional lubricant for all types of weapons, providing multi-level protection against wear, creak and rust. Reduces friction and wear, cleans gun powder from the barrel. Increases the service life and ensures trouble-free operation of all units and mechanisms of weapons. The best treatment for the preservation of rifled, smoothbore and pneumatic weapons. Protects and does not destroy wood, plastic, leather products, rubber or lacquer. Protects the treated surface at temperatures from -60 ° C to + 250 ° C.
ADVANTAGES:
Cleans away powder dust, dust, old grease, surface rust.
Can be applied to a wet surface.
Lubricates all components and mechanisms, penetrates into hard-to-reach places.
Offers long-term protection against wear and rust.
Extends the service life of the equipment by several times.
Properties: The nanoparticles that make up Super Nano Grease Firearm penetrate deeply into the metal structure, displacing moisture, dirt, old grease, and surface oxidation. They stop corrosion and prevent its appearance. The product does not lose its properties at a temperature of -60 ° C to + 250 ° C and retains its elasticity for a long time. The product can be applied to damp surfaces. It is harmless to all materials and penetrates into hard-to-reach places.
Application areas: op rod, barrel hood, cam pin, open ejection port, slide rail groove, center rail, action spring, and the like movable parts.
Recommended directions for use: Before use, the balloon must be shaken. Apply the product to the surface from a distance of 10-20 cm. If necessary, remove any excess with a tissue.
SUPER NANO DETERGENT BORE CLEANER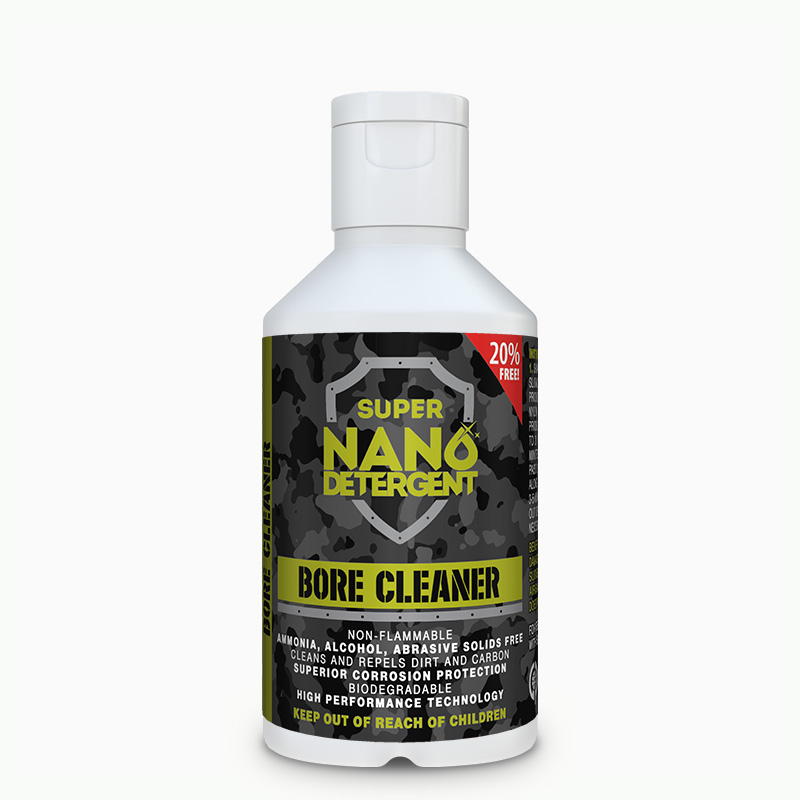 Purpose: Bore cleaner is designed to sweep away gun powder fouling, copper, lead, zinc, tombak, plastic. High performance product effectively cleans bores in rifles, shotguns, pistols and revolvers. Super Nano Detergent Bore Cleaner is safe, environmentally friendly and meets all industry standards for small arms maintenance.
Advantages
Non-flammable
Ammonia, alcohol, abrasive solids free
Cleans and repels dirt and carbon
Superior corrosion protection
Biodegradable
High performance technology
BENEFITS/USES
For home use.
Will not damage steel, aluminum, chrome, nickel.
Suitable for all types of firearms and air/gas powered weapons.
Does not cause adverse health effects.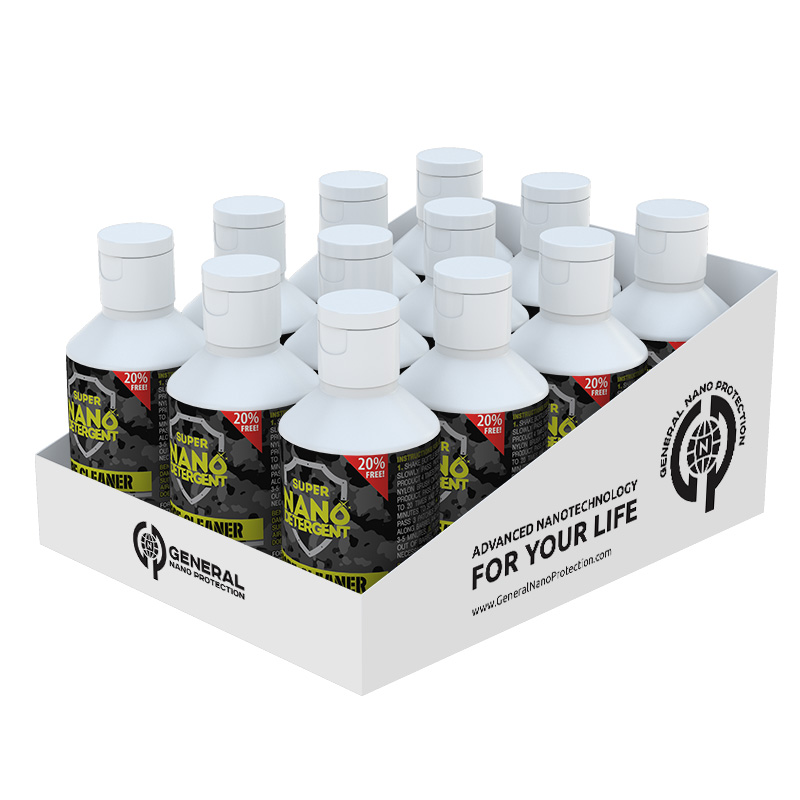 How to use: From moment of contact, active ingredients in BORE CLEANER permeate into the metal and micro-cracks on a nanoscale level. Debris and charred gunpowder are separate from metal. BORE CLEANER dissolves and coats the debris, effectively removing the debris and cleaning the surface of the metal.
Nontoxic BORE CLEANER is safe to use indoors especially when toxic fumes are an issue.
Safe on gun bluing, plastic and polymers.
Scent-free. Nonabrasive, safe cleaner for removal of dirt and debris from bullet cartridges with powder, char residue, lead, copper and plastic.
The innovative formulation of BORE CLEANER allows ease of cleaning in a short period of time.
Safe to use daily.
Easily removes lead, copper, powder and charred gunpowder, oil deposits and plastic particles.
Firing a firearm leaves many deposits inside the barrel of the gun when the bullet cartridge catches fire and releases gasses and pressure which propel the bullet through the barrel and out of the firearm. It is best to maintain the firearm as soon as possible after firing, it is not recommended to put it off for any extended period of time. Proper maintenance of a firearm dictates that the barrel and other parts be cleaned scrupulously of debris.
All bores foul to some degree during firing, and failure to remove the resulting deposits eventually results in the buildup of an accuracy-destroying "false bore" that is difficult to remove. Dirt, rust, lead, oil, gunpowder and other foreign particles can decrease the life of the barrel by 2-3 times the normal speed and will effectively decrease accuracy and increase the chance of damage to the firearm. Thus, bore maintenance prolongs the life of the barrel and preserves potential accuracy of the firearm.